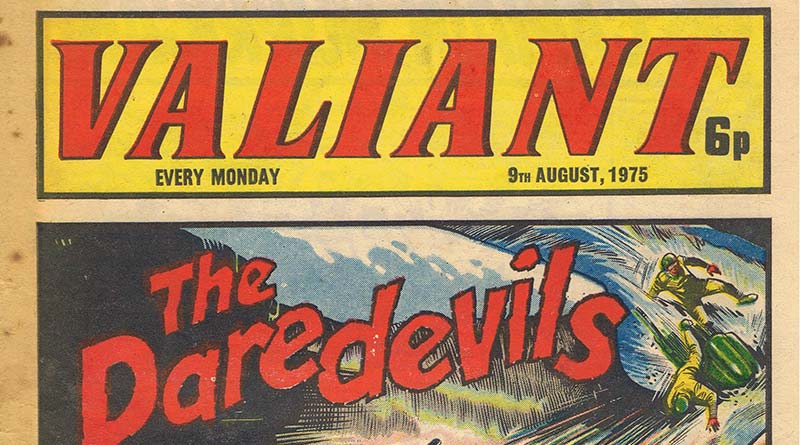 Valiant was a British boys adventure comics anthology which ran from 1962 to 1976.
It was published by IPC Magazines and was one of their major adventure titles throughout the 1960s and early 1970s.
The title went through a number of name changes and mergers, although always returning to its simpler one-word name. On 23 February 1963, it merged with Knockout, and later, with Smash! in 1971. It was briefly published for one week as "Valiant" again on 25 September 1971, then Valiant and TV21 on 2 October 1971. It merged with Lion on 25 May 1974, and with Vulcan on 10 April 1976.
After many years, Valiant began to seem old-fashioned when the first of a new type of comic was launched, the first issue of Battle Picture Weekly, in 1975. It suffered further when Pat Mills launched Action in February 1976. Attempts by John Wagner to update the title were initially successful, but it struggled to find a place in the market against these tougher adventure titles. Valiant limped on for a few months, but finally merged with Battle Picture Weekly on 23 October 1976.
Extract from the Valiant comics entry on Wikipedia
---
Find your memorable comic at Very Collectable – here's one from our extensive collection of comics;